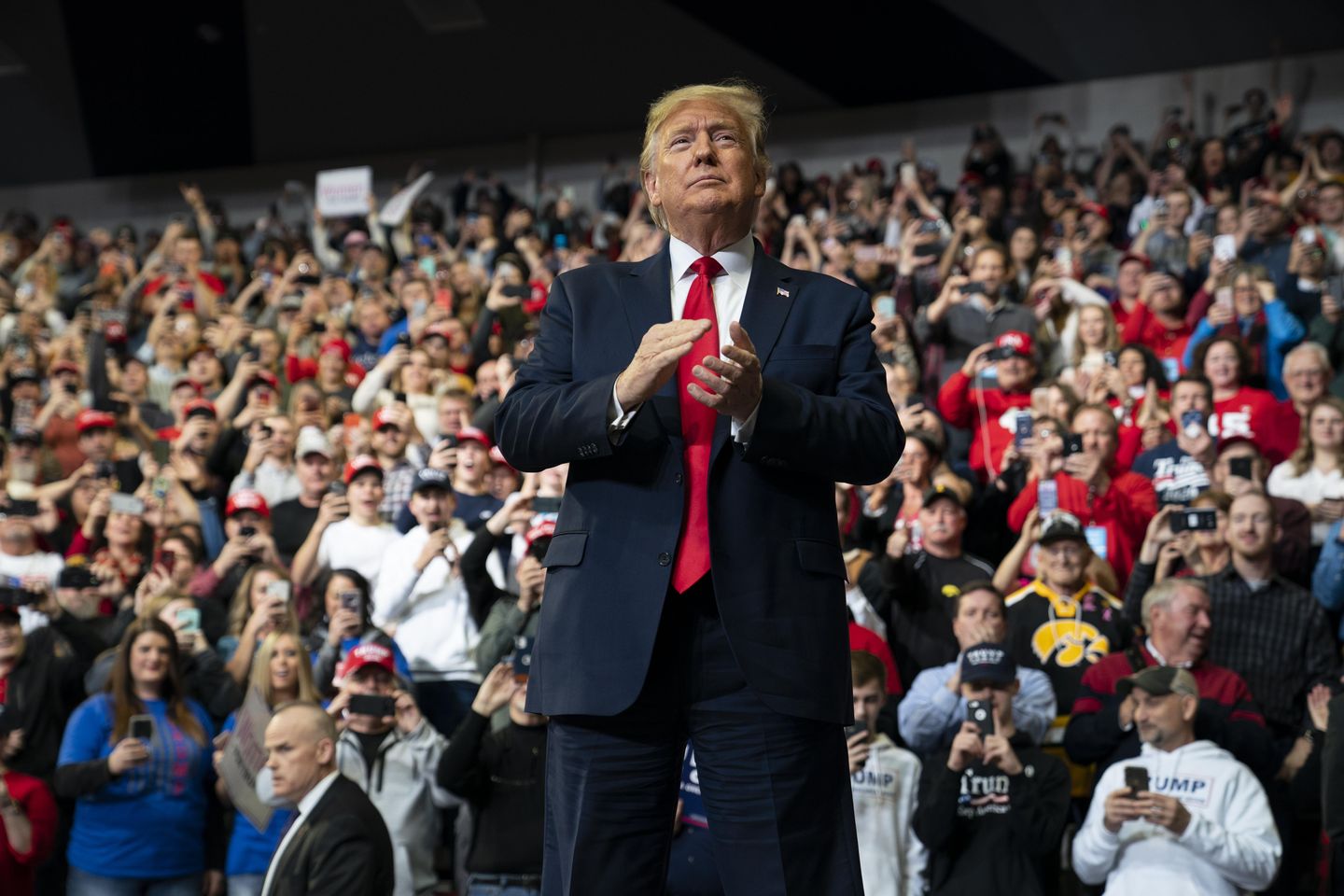 NEWS AND OPINION:
Former President Donald Trump has a very busy schedule coming up.
He has his first big "Make America Great Again" rally of the year on Saturday in Waco, Texas — an event which many observers consider to be Mr. Trump's official entry in the presidential race. The rally promises to uphold the Trump tradition of attracting big crowds who arrive early.
The City of Waco announced Wednesday that event organizers expect 15,000 people to attend the event. Mr. Trump is expected to speak at 5 p.m. CDT.
And the news media is on the case, of course. A few headlines of note from the last 48 hours:
"Trump holding his next rally in Waco, Texas, sends a message to the far right, experts say" (USA Today); "Very Symbolic!: Trump's plan for Waco rally spurs anti-government supporters" (Time); "What we know about Trump's rally in Waco amid possible indictment" (Austin American-Statesman); "Trump stirring deep waters with plan to hold his first campaign rally at Waco" (The New York Sun); and "Trump rally forcing traffic changes in Waco" (KWKT-TV, Waco's Fox affiliate).
And on a very small cultural note, Mr. Trump is now offering a T-shirt which features a full color portrait of himself and wife Melania Trump. The shirt bears this motto: "Unfinished Business." There is also a red ball cap emblazoned with the numbers 45-47 — referring to his being the 45th president and his wish to become the 47th.
In the meantime, Mr. Trump is scheduled for a potentially notable interview in the aftermath of all this activity.
Fox News primetime host Sean Hannity will present an exclusive interview with Mr. Trump on Monday at 9 p.m. EDT. Mr. Trump, at this point, should have much to say.
CIVIC-MINDED DESANTIS
His name is all over the media and his potential in the 2024 presidential election is an ever-present topic. All that has not prevented Florida Gov. Ron DeSantis from taking care of the important grassroots business in his state.
On Thursday, Mr. DeSantis stepped before an enthusiastic crowd of students and teachers to reveal that 20,000 Florida teachers have already completed a 55-hour "Civics Seal of Excellence" course — part of the governor's commitment to advancing civics education in his state.
The course includes sections on liberty, the U.S. Constitution and "the self-governing American citizen," among many topics. The content was provided by Mr. DeSantis himself — among other state officials — along with scholars from 20 colleges and universities, along with former lawmakers and federal officials.
"The U.S. has had a civics education crisis for many years, so Florida has stepped up for our students. Boosting civics education and engaging our students is the best way to preserve the constitutional foundations that our country was built upon," Mr. DeSantis told the enthusiastic gathering.
"Our emphasis is on getting American civics back — front and center — in our school system," he said.
"As a young person, everybody is going to be called upon to exercise the duties of being an American citizen. That is something that we take seriously in Florida. We have a responsibility  to help graduate students out of our school system with a foundation of understanding what it means to be an American, and what the principles are that have made our country unique and great," Mr. DeSantis advised.
A NOTABLE VICTORY
Here's some viable evidence that public interest in the goodness of America on a large scale could be on the rise.
Author Timothy Goeglein tells Inside the Beltway that Newsweek is running a major excerpt from his new book "Toward a More Perfect Union: The Moral and Cultural Case for Teaching the Great American Story," on Friday.
Mr. Goeglein is, by the way, vice president for government and external relations for Focus on the Family, a global Christian ministry.  
"It has sadly become evident that over the past seventy years, Americans have become increasingly ignorant of our nation's founding principles. Civic education and American history have either not been taught or have been deliberately mistaught throughout our nation's public—and in numerous cases, even our private—education system. This lack of education or misinformation has placed our nation in great peril," the author wrote in the book, which was published Jan. 11 by Fidelis Publishing.
Sales have been brisk. The publisher is now offering a second printing of the book.
WEEKEND REAL ESTATE
For sale: The John C. Hayes Residence, a classic Queen Anne-style Victorian home built in 1895 on one acre in Los Angeles. Four bedrooms, two baths, with "meticulous detail and craftsmanship" throughout; 1,774 square feet. Douglas fir floors, 12-foot ceilings, fireplace, soaring windows, sun room, office, parlor, formal living and dining rooms, gourmet kitchen. Original decorative features from the era inside and out. Landscaped yard with mixed, mature plantings; views of city lights, San Gabriel Mountains and Mount Wilson. Priced at $889,000 through Compass.com; enter 23-251823 in the search function.
POLL DU JOUR
• 28% of U.S. adults overall think it is "very likely the country will experience another crisis involving banks and financial institutions similar to what occurred in 2008"; 37% of Republicans, 29% of independents and 19% of Democrats agree.
• 39% of those who voted for former President Donald Trump and 18% of those who voted for President Biden also agree.
• 47% overall think it is "somewhat likely" this will happen; 48% of Republicans, 45% of independents and 50% of Democrats agree.
• 46% of Trump voters and 47% of Biden voters also agree.
• 22% overall think it is "not very likely" this will happen; 13% of Republicans, 23% of independents and 28% of Democrats agree.
• 14% of Trump voters and 32% of Biden voters also agree.
• 3% overall think it is "not at all likely" this will happen; 2% of Republicans, 3% of independents and 3% of Democrats agree.
• 1% of Trump voters and 3% of Biden voters also agree.
SOURCE: A CBS News poll of 2,117 U.S. adults conducted March 20-22.
• Follow Jennifer Harper on Twitter @HarperBulletin.
𝗖𝗿𝗲𝗱𝗶𝘁𝘀, 𝗖𝗼𝗽𝘆𝗿𝗶𝗴𝗵𝘁 & 𝗖𝗼𝘂𝗿𝘁𝗲𝘀𝘆: www.washingtontimes.com
𝗙𝗼𝗿 𝗮𝗻𝘆 𝗰𝗼𝗺𝗽𝗹𝗮𝗶𝗻𝘁𝘀 𝗿𝗲𝗴𝗮𝗿𝗱𝗶𝗻𝗴 𝗗𝗠𝗖𝗔,
𝗣𝗹𝗲𝗮𝘀𝗲 𝘀𝗲𝗻𝗱 𝘂𝘀 𝗮𝗻 𝗲𝗺𝗮𝗶𝗹 𝗮𝘁 dmca@enspirers.com