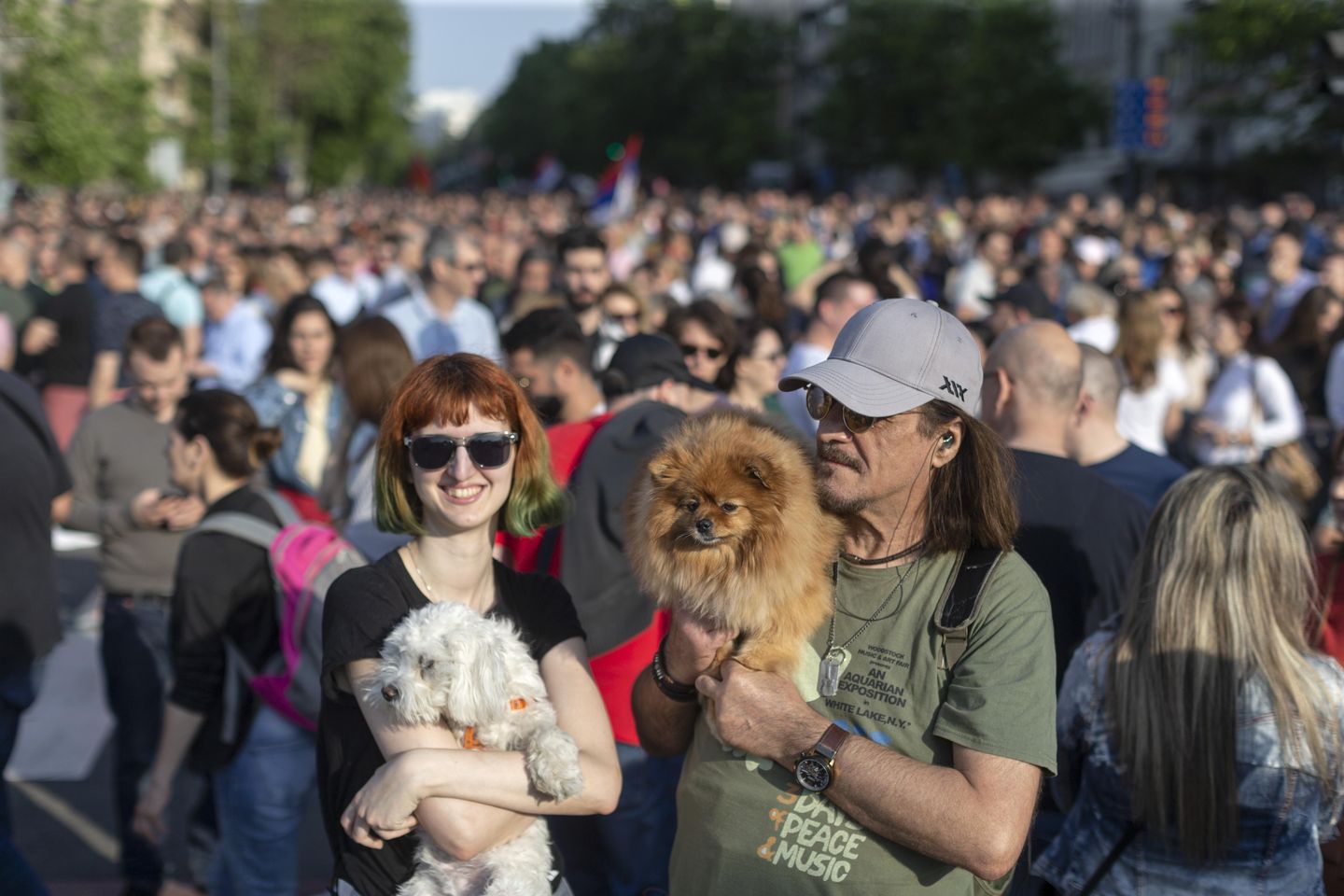 BELGRADE, Serbia (AP) – Thousands of people rallied in Serbia's capital on Saturday for a fifth time in a month, following two mass shootings that shook the nation, even as the country's populist president rejected any responsibility for the crisis and ignored the protesters' demands to step down.
The crowd, chanting slogans against President Aleksandar Vucic, marched through the capital, Belgrade, to gather in front of his downtown headquarters. They released a large balloon with the inscription "Vucic Go Away."
University students led the march, holding a banner that read "Serbia against violence!"
---
---
The opposition protesters have been demanding the resignations of senior government officials and the revocation of broadcasting licenses for TV networks which, they say, promote violence and glorify crime figures.
The protest on Saturday was somewhat different from the ones before. Independent journalists covering the march saw right-wing groups infiltrating the march to promote their nationalist agenda.
Analysts say some of these groups have close ties to Serbia's security service.
There were reports of ultranationalist supporters attacking a protester with a baton. Some of the attackers had t-shirts with the Russian Z inscription, a symbol of the Russian aggression against Ukraine.
The opposition has accused Vucic of fueling intolerance and hate speech during his increasingly autocratic 11-year rule, while illegally seizing control of all state institutions. Vucic has denied this, claiming the opposition groups want him toppled by force.
"They just need to know that dead or alive, including my children, I will fight against those who support violence," Vucic told a pro-government TV station. "They will never scare me."
The two shootings on May 3 and 4 stunned the nation, especially because the first one happened in an elementary school in central Belgrade, when a 13-year-old boy took his father's gun and opened fire on his fellow students. Eight students and a school guard were killed and seven more people wounded. One more girl later died in hospital from head wounds.
A day later, a 20-year-old used an automatic weapon to randomly target people in two villages south of Belgrade, killing eight people and wounding 14.
Popular Serbian actor Dragan Bjelogrlic told the crowd that "we owe a debt" to the dead children.
"We owe them the truth and justice," he said. "We owe them what we didn't give them while they were alive."
Authorities have launched a gun crackdown in the aftermath of the shootings and sent police to schools in an effort to boost a shaken sense of security.
Serbia is flooded with weapons left over from the wars of the 1990s, including rocket launchers and hand grenades. Other gun-control measures declared in the wake of the shootings include tighter controls on gun owners and shooting ranges, a moratorium on new licenses, and harsh sentences for possession of illegal weapons.
—
Jovana Gec contributed.
Copyright © 2023 The Washington Times, LLC.
𝗖𝗿𝗲𝗱𝗶𝘁𝘀, 𝗖𝗼𝗽𝘆𝗿𝗶𝗴𝗵𝘁 & 𝗖𝗼𝘂𝗿𝘁𝗲𝘀𝘆: www.washingtontimes.com
𝗙𝗼𝗿 𝗮𝗻𝘆 𝗰𝗼𝗺𝗽𝗹𝗮𝗶𝗻𝘁𝘀 𝗿𝗲𝗴𝗮𝗿𝗱𝗶𝗻𝗴 𝗗𝗠𝗖𝗔,
𝗣𝗹𝗲𝗮𝘀𝗲 𝘀𝗲𝗻𝗱 𝘂𝘀 𝗮𝗻 𝗲𝗺𝗮𝗶𝗹 𝗮𝘁 dmca@enspirers.com