By Stephanie Rodriguez
Representation matters, and nobody knows this better than Caesar Osiris, a Puerto Rican film director in Hollywood and founder of LAB H Media.
Caesar Osiris a few months ago won Best Music Score in the Culver City Film Festival 2021 with a music score produced by him for his short film, "Firelighting".
Starting out as a teenage actor in Puerto Rico doing theater, TV and film, he included directing and producing in his skill sets when he moved to Los Angeles. For Caesar Osiris, his roots in the American territory of Puerto Rico began to shape the complex path to where he is now.
"I grew up in a Christian conservative household in Puerto Rico. My father was a pastor, and all my childhood I felt at times shy and shameful as I would hear frequent church narratives about how sinful was to engage with homosexuality. I would also add that growing up in church as the 'son of a preacher man' not only exposed me to a huge amount of social pressure from an early age, but also it was in church that I started acting, directing, and finding expression for my love to entertain an audience. I owe that to the church."
One of Caesar Osiris' most recent directorial works was the "Good Pressure" music video by Singer Shea Diamond included as part of the official selection of OutFest Film Festival 2022, presenting in Los Angeles, California from July 14 – 24, 2022.
Queer people have been present in the film & Television since its inception more than 100 years ago, but due to censorship and varying degrees of prejudice against the LGBTQ+ community at different points in time, onscreen and off screen representation has a long, complicated, and often coded history specially in Latino countries and US territories like Puerto Rico.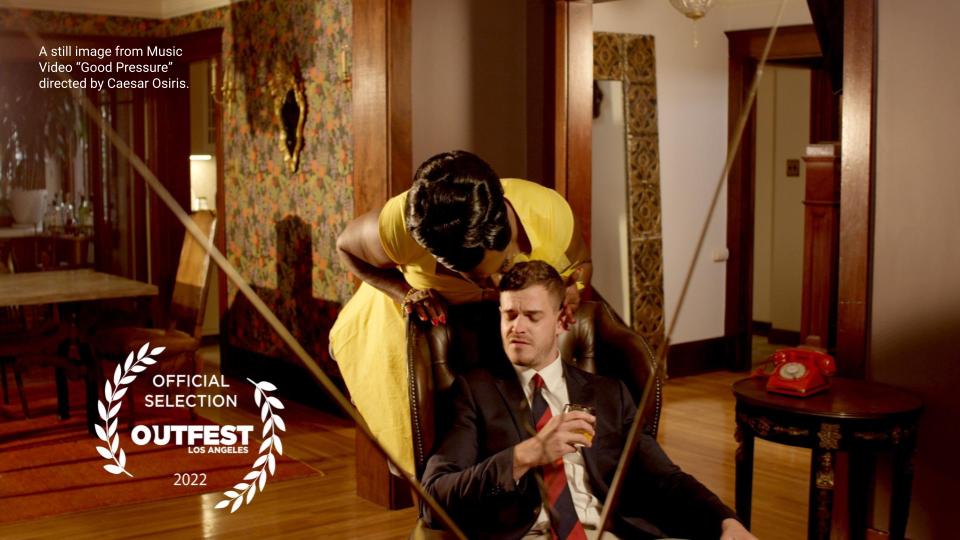 "I remember one of my first memories of queer representation in Puerto Rican TV was a character called Guille from TV show "Entrando por la Cocina" – it was done in a stereotyped way to make fun of queer people."
Although LGBTQ+ representation remained sparse over the next few decades, queer camp in the 1970s saw a rise in popularity with the increased prominence of "The Rocky Horror Picture Show" and the films of John Waters. Later, the New Queer Cinema in the 1990s flourished as a independent filmmakers (many of whom were gay) told fluid, empathetic stories about queer individuals.
Caesar Osiris, is the line-producer of a queer feature film soon to be released to the audience, and also currently in post-production with a full length documentary he directed.
"I feel sexuality is not black or white, many of us are not just gays or straights, we are sensitive complex beings. When we connect with someone sexually it can go beyond our genders or our ideas of identity. When we connect sexually with someone it is a powerful act of nature that should be respected."
Caesar Osiris is becoming a rising star in Hollywood, not just because now Latinos are thought of as a hot ticket for diversity, but because he has proven again and again to bring so much to the table, thriving in spite of challenges that might not be apparent to others.
"There are a lot of obstacles within major media for artists and performers who don't fit exactly into pre-written show business categories, including those of us Puerto Ricans who are born American but still might seem foreign to 'American culture' – we speak with an accent, or our stories are specific to islands and territories that get ignored. But I like to gently push with films, music, humor and style, to say we belong here and there is space to share with us."
He is a proud Puerto Rican, representing the enchanting islands of Puerto Rico to the silver screen and to the stars.